Sandwiches with a smile, that's one of many specialties of Deli Manager Carie Anne MacAlpine, who runs a bountiful ship over at the Mission Street store. I've been stopping by at lunch time for the past year, filling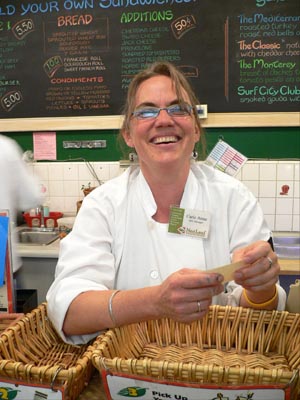 out the handy order form for my custom-made sandwich and taking home such an abundance of fresh bread, ham, cheese, or whatever, that it feeds two adults very nicely. (Okay, plus an apple.)
The vibes are distinctly upbeat at this neck of the New Leaf woods, and I can't help but think that MacAlpine's service-intensive attitude is part of the secret. "We have fun," she admits, slathering mayo onto the interior planes of my favorite multi-grain bread. While giving full credit to New Leaf's deli czarina Nancy Weimer, MacAlpine is willing to take a bit of credit for keeping up with inventory needs and making what has to be one of the truly heroic sandwiches on the planet.
"My thing is to figure out just how much we need each day and week – the University and the weather are the biggest variables – they affect what I need to do." No surprise there. But what is surprising is the unfailing high quality of these made-to-order lunches.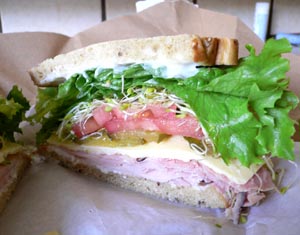 For $5-$6 you get an even distribution of whatever you like inside, e.g. tuna, avocado, instead of a tiny little clump sitting in the middle of the bread. I hate that! Also at MacAlpine's counter you actually get enough condiments – sometimes even an overload (see image) – rather than having to reconstruct the entire sandwich, and add mayo and mustard, when you get home.
I love these sandwiches! And I'm not alone. Viva MacAlpine and her skillful crew.