You owe it to yourself to stop at Nine-Ten, smartly tucked into the landmark Grande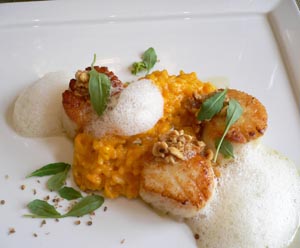 Colonial Hotel on Prospect Street. Here you can taste what California cuisine has transformed itself into, thanks to the feisty imagination of chef Jason Knibb. The chef brings a blazing trail of culinary conquests to this little dining room in the upscale seaside village. He's worked with Wolfgang Puck, Roy Yamaguchi and most recently as executive chef of Robert Redford's Sundance Village. Credentials are great, but the proof is in the eating.
My mom and I splurged on lunchtime wines by the glass, because this food demanded respect. Her entree of thickly sliced wild halibut filet was done just to the translucent point, and adorned with tiny chanterelles, Chino Farms fresh corn and a handful of orichiette pasta. My sea scallops (above) bordered a central island of carrot risotto, dusted with toasted hazelnuts and infant arugula. Soft clouds of coriander-scented foam infused the scallops with a subtle spice. It all tasted as good as it sounds! Every item was organic and/or wild, and perfectly cooked. Service was outstanding, the bread was wonderful – my mother, the bread connoisseur, found the crust "too chewy" for her palate. I loved it.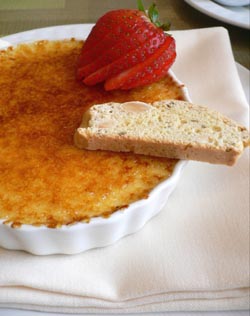 And dessert was also expert. A refreshed version of the old cliché, crème brûlée, this one was intense with vanilla bean and came with an unsweetened biscotto of anise and lemon. It was a destination lunch — especially since I found a garage two doors down the street where we parked (often an impossible assignment in La Jolla) for $5. Nine-Ten also offers valet parking. 910 Prospect, La Jolla – 858/964-5400.