Rummaging around the seductive shelves at River Cafe & Cheese Shop, I was looking for a substantial lunch. Something to go with that fabulous bbq pulled pork and slaw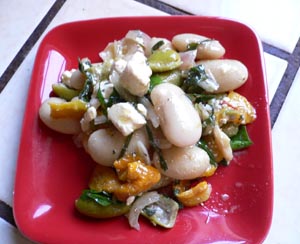 sandwich. Hmmm, what's this? A platter filled with gemlike gigante beans, green olives, yellow roasted peppers, caramelized onions, squares of feta and aromatic oregano. Yes! A bean salad to end all bean salads. I bought a large container full of this glorious creation (actually it was the smaller of the two sizes available, $4.35) and took it home.
Glistening in a lemon-scented dressing, the salad begged to be presented on a pretty red plate. Done. Along with that succulent organic pork on francese, it made one of the finest take-out lunches I've had all year. Any year. River Cafe & Cheese Shop – 415 River Street, SC – deals in oral temptation. This is a good thing.