Bay Area chef Chris Kobayashi and his brothers have joined the new transformation of downtown Paso Robles into a food and wine destination. Their smart dining room – Artisan – offers a wine list of local all-stars and serious, accomplished local, organic foods to match.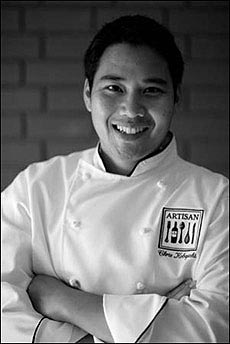 Since our longtime favorite Paso Robles restaurant, Bistro Laurent, was closed on sunday, we made reservations for dinner at Artisan on our way to Thanksgiving in the Mojave.
From two sensational local wines – one a cab from Firestone, the other a "Cuvee des Artistes" blend from RN Estate – to a mini dessert of warm cookies, we were charmed right down to our trail runners.
The opening dish of seared yellow fin tartare, arranged in a fan of crimson seafood, arrived with a tangy fried green tomato and frisee salad. Killer. Jack's entree of natural pork porterhouse was tender and juicy, sided with sweet potatoes and baby turnips. My Kobe beef cheeks came with stupendous buttermilk mashed potatoes, broccoli rabe, infant heirloom carrots and more of those thumbnail-sized white turnips. Even though the beef tasted more like gelatinous pot roast than anything else, the side dishes were better than great.
Artisan now joins Bistro Laurent on our Paso Robles short list. But I gotta tell you, the central plaza of this old cowtown-turned-oenomecca is now lined with cafes and wine bars. Much like downtown Sonoma. Embraced by ever-expanding vineyards, Paso Robles has gotten the point. The world loves fine wine. If you haven't wandered down Highway 101 in a while, you could do worse than make PR an actual destination. Stop, taste some wine, have some wonderful food, and then get lucky in a local motel.