Before he was the Executive Chef of the University Center's dining room, Terra Fresca, Jamie Smith was chef at Sestri, where he won a following for his stylish and delicious variations on Mediterranean and New California cuisine.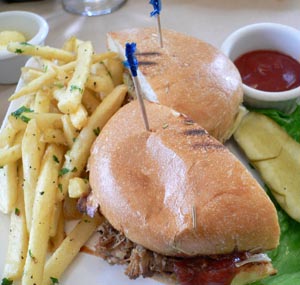 At the upstairs dining room in the centrally-located UCSC University Center, Smith has not only created a go-to lunch menu of standards and daily specials, but his handiwork is further finessed by a crew of polished waitstaff.
I joined Inca scholar Carolyn Dean last week for lunch at Terra Fresca and was wowed by the distinctly non-institutional nature of the menu — and of the flavors. Packed with faculty and guests from the "Science Hill" cluster, Terra Fresca has managed to give a sense of atmosphere to the enormous room — sensational views of the surrounding redwoods — with gobs of botanicals.
But the best news is that with Smith's upbeat, contemporary menu, this is now a real dining destination for adults. Examples: Harris Ranch burgers and steaks, natural chicken done in various salads and pastas, seafood entrees such as grilled salmon or lemon rock shrimp risotto — you get the idea. Shown above is my terrific lunch of BBQ pulled pork and coleslaw sandwich, with a side of absolutely perfect thin, crisp garlic fries. Muy garlicky. Dean feasted on a hot empanada and its accompanying butternut squash soup-of-the-day. Both lunch entrees ran just under $8 each – and each dish was generous enough to rate a to-go container.
An impressive dining room in the redwoods. Check it out – open for lunch Mon-Fri from 11:30 – 2pm. 459-2689. Now all you have to do is find a parking spot!