Cynthia Sandberg, whose Love Apple Farm is the biodynamic kitchen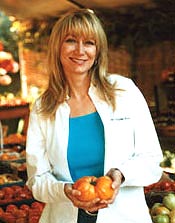 garden for Manresa (two Michelin stars, David Kinch chef), emailed to show off her new mouth-watering eNewsletter/blog – Grow Better Veggies. It's loaded with wonderful ideas, recipes, growing intensives and more good stuff to motivate your inner gardener. Add it to your daily web grazing. And sign up so it will come directly to your email in box.
That's the tomato queen herself on the right, holding one of her hefty heirloom pomodori.