The Farm & Garden folks have come up with another one of those mouth-watering cookbooks — Fresh from the Farm & Garden: Volume 2 — just in time for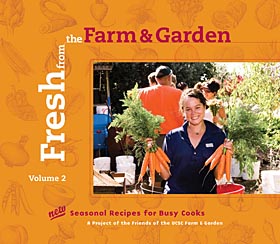 holiday gift giving. (You think they planned that?)
Available at Capitola Book Cafe, at Bookshop Santa Cruz, and also through the UCSC Center for Agroecology directly ($20, with some proceeds going toward the work of the Friends of the F&G, contact Joni at 459-3240, or jonitann@ucsc.edu), the tempting recipes, over 200 of them, will have you spending quality time in the kitchen during the coming new year.
Naturally the focus of this great new cookbook is local, seasonal, organic produce and how to turn it all into memorable dining.
You wanted local gift ideas. Here's another one. Go check it out.