Last week we were all over the map – Luca in Carmel, Soif for appetizers, and Au Midi for dinner. All wonderful stuff in general, with scallops, root veggies and wintry natural meat dishes showing off nicely.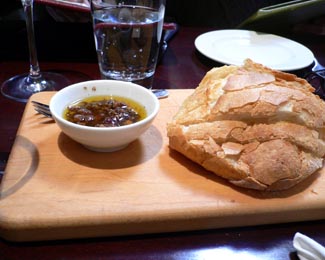 Across Dolores Street from Winfield Gallery, Luca sits between Ocean and Seventh, in a contemporary re-design that moves from the intimate front bar seating, past the wood-burning pizza ovens, into a huge back dining room. Heavy beamed ceilings in the front room, brick barrel vaulting in back, attest to the vintage of this attractive space, masterminded by Mirabel Hotel and Restaurant Group entrepreneur David (Bouchée) Fink.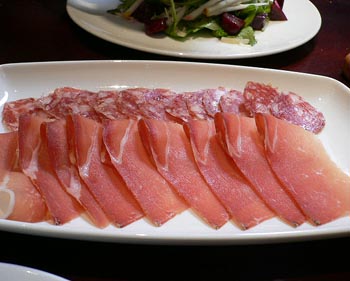 The lunch menu created by Executive Chef Jason Balestrieri (formerly of LA's Patina) was instantly appealing, and our quartet ordered glasses of earthy Sardinian Cannonau to go with a shared arugula, pecorino and pear salad, a pizza Margherita, another pizza topped with caramelized onion and wild funghi and a shared salumi plate of artisan-made salametto and speck. I could admire the view of large slabs of hams and cured salumi hanging in a glass aging chamber from my spot on the banquette.
Every flavor was sparkling, from the delicious, ungreasy meats to the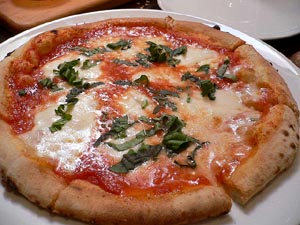 perfect pizza. Crisp crust, chewy delicious dough, buffalo mozzarella and San Marzano tomato topping. The arugula salad — inflected with beets and thin slivers of pear — was generous enough for us all to enjoy. Even the opening salvo of crusty bread was terrific, served with an addictive olive oil and balsamic mixture filled with chopped olives.
Put Luca on your list next time you're in Carmel – open for lunch (during the week) and dinner daily – 831/625-6500.