The Chocolate Creation of the Year: Yearning for some authentic French cooking? You will want to sample the handiwork of chef Muriel Loubiere, who along with husband Michel has opened Au Midi, a small, charming place devoted to a small menu of French culinary hits. (Although the restaurant announces itself as "provençal" the current menu doesn't back that up.)
Our quartet sampled two appetizers and four entrees — all delicious and a bit retro with their impeccable sauces and fastidious handmade presentation. But it was the desserts by skilled pastry chef Loubiere that knocked us out.
Destination Chocolate! And I'll go further. If you can only enjoy ONE chocolate dessert this year, it has to be the "Bergamot" creation at Au Midi ($8.25). Let me try to explain (too bad the low lighting prevented me from taking a good shot).
Imagine a shining dark chocolate hemisphere, say 3 inches in diameter, sitting on a crisp wafer-thin chocolate biscuit. Next to it is a filigree spun sugar "basket" containing orange slices. Next to that is a little bowl of crème Anglaise. Add a few perfect rosettes of unsweetened whipped cream.
Now go back to that dark chocolate dome. As you insert your spoon you open up a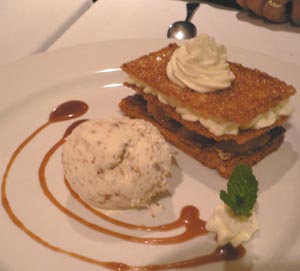 layered paradise of chocolate truffle and mousse, each one darker than the next – and in the very center waits a heart of Grand Marnier ganache. We couldn't believe it. We actually moaned out loud in public. It was a stupendous achievement in chocolate. Chocolate the way the baby Jesus would have liked to have it while waiting around for the magi to show up at the manger. Chocolate that could take home an Oscar.
There was also another fabulous dessert ($7.50), a caramelized puff pastry Napoleon layered with pastry cream and roasted apples, topped with vanilla whipped cream and sided with a scoop of incredibly sensuous gingerbread ice cream. It too scored a direct hit.
Appetizers showed real handmade artistry, yet were quite busy with sauces and whipped garnishes. The warm sea scallops were delicious on a thin bed of beet carpaccio ($13.95). A second appetizer of goat cheese wrapped inside pastry packets was over-wrought, and tasted very much like the first appetizer ($12.50).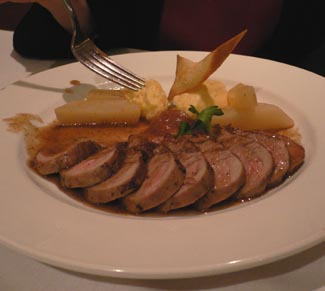 Au Midi might wish to add a few fresh green salads, and perhaps some simple entree presentations — to expand audience appeal. An dish of natural pork tenderloin (left) was perfectly cooked. So delicious was the pork that it really didn't need all of the flourishes with which it arrived — spiced rhubarb compote, sliced turnips and a potato crisp stuck into another rosette of creamy polenta ($21.75).
The house natural Angus filet mignon however is possibly the best steak in town ($29.95). Done exactly to the rare/medium rare point, it came sauced with Madeira and mushrooms and an extravagently old-fashioned d'Auphinois of scalloped potatoes. These were overwhelmingly rich. And unnecessary. The steak was pure heaven.
So far Au Midi's wine list is bracingly limited — five reds and four whites. But the night is young. Au Midi Restaurant & Bistrot is located at 7960 Soquel Drive in Aptos. For reservations call 831.685.2600.