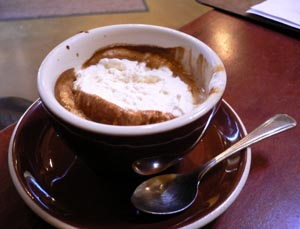 When Joseph Schultz tells you, "this place has the best coffee in town," you tend to pay attention. The founding chef/ethno-gastronomer for the late, great India Joze Restaurant was referring to the new Lulu Carpenter's housed in the new/old Octagon across from Gravago in downtown Santa Cruz. And frankly he could be right.
At least that's how my deep, rich, dark-roast coffee tasted yesterday morning. And that was nothing compared to Joze' incredible triple espresso with a float of whipped cream. I took a sip. It should have been acidic at that wattage, but it wasn't. Not the least bit bitter. Incredible. The secret to all of this might just lie in Felton, at Coffee Cat, where Lulu's beans are custom roasted.
I am about to make a field trip up to the mountains to find out. Stay tuned.