Only 3600 bottles of St. George "Absinthe Verte" were made last year by inventive distiller Lance Winters. And I scored one of them last week. Yes, this was the allegedly hallucinogenic tipple that fueled artists, poets and bohemians at the turn-of-the-century.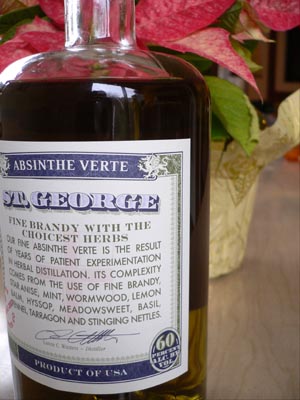 Think Toulouse Lautrec, Degas, Baudelaire. Banned since 1912, the high proof — 120 proof to be exact — herb-laced elixir has made a one-man come-back, thanks to the tireless tinkering of eau de vie master Winters. The results are, it must be said, unforgettable and dreamy.
What does it taste like? Subtle, bracing, haunting — like a blend of Fernet Branca, grappa and Chartreuse. Only better.
What does it cost? Twice the price of a great bottle of single malt.
Hopefully, the beautiful bottle of will last a long time. It's filled with the fabulous fragrances of woodworm, hyssop, basil, fennel, nettles, tarragon, and mint, all riding on a high octane cloud of triple distilled brandy.
Happy New Year indeed!