Unbelievable – but true. While the actual celebration happens on February 14, the glorious bakery and rosticerria is offering oodles of great reasons to come to Gayle's starting right now.
Pictured here is a lunch we took home last week — luscious rosti from the glittering deli cases of Gayle's. The fat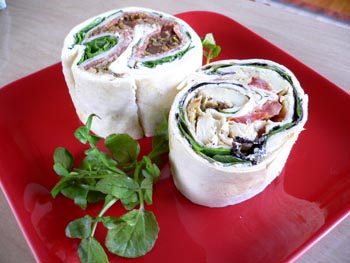 one on the left was loaded with salame, mozzarella and tapenade (it went quickly), and the other offered plump morsels of artichoke, dill, tomato, and something creamy. Also good, but that salame number really fired our rockets. For $3.50 each, these spiral wraps make wonderful lunches. Just add fruit and tea and you're there.
But there's always something tempting at Gayle's.
Keep in mind that every single day starting January 15, there will be a drawing at Gayle's for edible prizes. AND all of those winners are eligible for a Grand Prize Drawing on February 14. Ho hum you think? You would be wrong.
The Grand Prize celebrating the 30th anniversary of Gayle's is a catered 30-person dinner delivered to the winner's home!
If you only visit Gayle's on one day this month, make it January 30 when 30% of gross sales will be donated to Second Harvest Food Bank.