It's not everyday I'm faced with a wine made in Texas. So when my New Year's Eve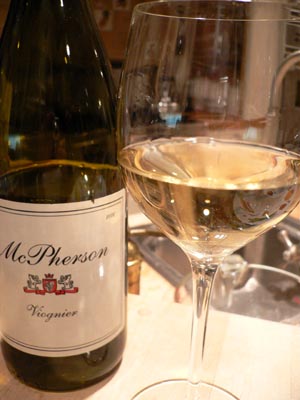 hosts offered me a glass of McPherson Viognier, I struggled to suppress a smug smile. What I tasted wiped that grin right off my face. A Viognier from Lubbock! And a good one. Who knew?
Okay, it might not give the Montrachet people a restless night sleep, but this was a very interesting white wine. Fruit-forward, but something more interesting as well. It had a rugged almost evergreen bouquet, like (trust me on this) Metaxa splashed with retsina. But it pulled back before it had gone that far and opened into some pears and geraniums. Really quite enjoyable. And it turns out the McPherson people have been insisting on making wine in Texas for a long time. The winemaker – UCDavis-trained Kim McPherson (who also makes wine for Cap Rock Winery) – learned about Texas-sized grapes from his father, an early Lone Star pioneer in viticulture. Next time you're in Texas – you should give it a try.