We joined art lovers this weekend at the opening of Linda Pope's latest curatorial creation at the Eloise Pickard Smith Gallery at UCSC. Claire Lerner's eclectic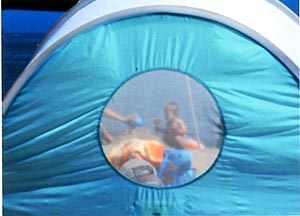 combinations of photographic images and mixed media – "The Relaxation Project" (detail,r.) fills the Main Gallery, while Jimmy Chen's "Sleepwalking" series occupies the Annex Gallery.
Chen – a graduate of the university's Art program and a former student of painter Frank Galuszka, makes small, moody nightscapes. Chen's work explores the underbelly of suburbia's comfort zone, in unsettling little studies that suggest Edward Hopper by way of David Lynch (below).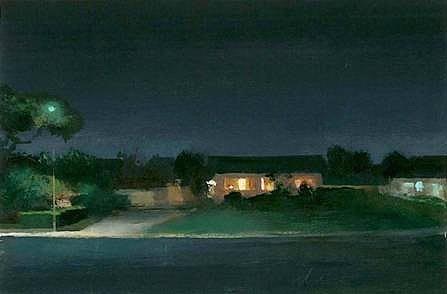 Claire Lerner's pieces elicit a reflective mood of carefree summertimes, and their underlying quiet, idyllic nothingness.
Show continues through March 8, 2008. The Gallery is located at Cowell College – 831/459-2953.