Limoncello, O'mei, Shadowbrook:
Three of us checked out the very tempting $19.47, three-course dinner at Shadowbrook last night. Yum, in a word. The price is a budget-friendly reference to the founding year of this landmark – and to celebrate 60 years of hospitality expertise, this prix fixe offer continues on Sundays through April.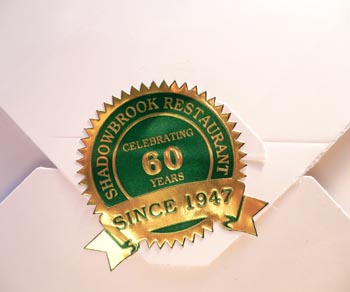 The deal is you get your choice of appetizers – we all went for the Caesar salad rather than artichoke soup – and a choice of dessert. I liked my moist bread pudding — the others swilled vanilla bean ice cream topped with chocolate sauce and whipped cream. Low cal. The entree is chosen by the kitchen. Last night it was a Black Angus top sirloin steak, cut very thick, and served as requested. Mine was red, juicy and joined by a delicious francese roll, mashed potatoes and al dente sauteed broccoli rabe. With dinner we drank a Chilean pinot noir filled with lots of spice, rather on the soft side, but definitely a decent partner for the beef. What a great way to ease yourself into the work week.
We took an out-of-town guest to O'mei last week and shamelessly consumed great quantities of gloriously spiced Yuxiang Prawns and Eggplant, Chicken Curry and Almond Apricot Chicken, along with a few choice small plates. I'd been hearing that things weren't what they used to be at this local treasure, but you couldn't tell it by our wonderful meal. . . . Lunch at Limoncello started off my week and let me say it again – "grazie tanto" to chef Giovanni di Maio and his excellent staff for reviving robust Italian dining in the middle of Santa Cruz. I was wild about a magnificent order of rigatoni ai quattro formaggi. How this kitchen can finesse a dish involving pasta laced with four cheeses, a touch of cream and a tangy foundation of radicchio — and yet NOT have it be heavy, beats me.. . . .Now if Oswald would only open….