If you look around you might just spot a 21st century Simone de Beauvoir or Jean-Paul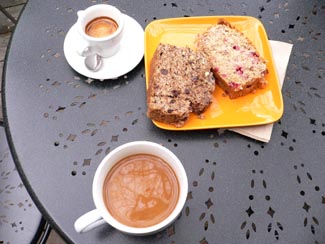 Sartre sitting and scribbling something deep at one of the little tables on the deck of River Cafe, at 415 River Street in Santa Cruz. The perfect spot to soak up a bit of winter light, the deck here is the perfect oasis for enjoying a bracing espresso and one of those dense, moist fruit breads. Homemade temptation is the house specialty here.
On the east side of town, Black China Bakery has expanded its chic cafe into part of the indoor gallery space it shares with Ironwood. The colorful renovation — including vermillion and chartreuse walls lined with terrific plants and original artworks — is the top spot to enjoy organic salads, fragrant soups and panini starting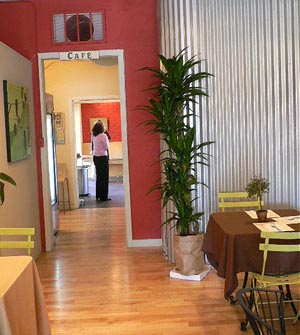 at 11am every day except Monday.
And in the mornings, of course, Black China lives to seduce you into one of those peerless cranberry scones and some lascivious espresso drink or other. Black China Bakery Cafe is tucked behind Ironwood at 1121 Soquel Avenue – open Tues-Fri from 7am until 5pm, Sat & Sun from 9-4, and open on Mondays for 7-11am breakfasts.