John Locke – not the British Empiricist philosopher but the mischievous Santa Cruz wine wonk – is setting a brisk pace in Soif's upper room with his Sunday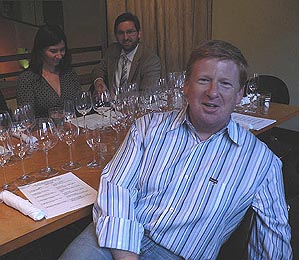 evening wine classes. After taking Locke's high-powered wine and cheese workshop last fall, I was more than ready to dive into the oenological demimonde.
Why not begin at the beginning, I figured, and signed myself up for all three of Locke's Wine Basics workshops. Twice a month a dozen of us are put through our tasting paces by the maestro, who introduced us to the crisp flavors of northern France, Germany and Austria last time. We learned about soils, about mineral tones, about just how to-die-for a Sancerre can be (check out the Menetou-Salon Sancerre available in the Soif wine shop!). With lower alcohols come more opulent perfumes, as an Austrian Gruner Veltliner amply displayed.
Locke walked us through the maddening lexicon of terroir, and invited us to discover the persistence of certain flavors, as well as their spacial complexity. Oh Locke can talk about fruit, leather, spine, flintiness, citrus — but he's most enlightening when he encourages emerging oenophiles to explore such wine properties as spaciality, completeness and liveliness.
As an expansion of my own wine vocabulary, these classes are spectacular bargains at $40 per – which includes at least six different wine tastes, lots of bread and a beautiful slab of cheese.
In the second Basics class — which moved through the Rhône Valley like Sherman through Atlanta — Locke revealed that, "Aged sheep's milk cheese can handle almost any wine." He was right, as a beautiful wedge of Petit Agour from the Pyranees demonstrated.
Many of this season's classes are already filling up fast — but you know how popular demand works. So head over to Soif and demand to get into one of John Locke's wine classes. He might just have to add more….