Not glued to the tube during this year's Oscar telethon — I'll be at a wine class for two of the three hours — I will nonetheless remain in solidarity with all the Red Carpet bling, AND the award-winners. These will include:
Daniel Day Lewis for Best Actor – his incandescent portrayal of obsessed oil baron Daniel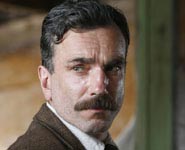 Plainview shows us how the West was really won.
Javier Bardem for Best Supporting Actor (even though his was arguably the central performance in the film "No Country for Old Men") Bardem is an uncanny chameleon with vast reservoirs of power and charisma. His performance as an idiosyncratic assassin was the centerpiece of this year's best film.
Julie Christie for Best Actress – The Academy loves to reward a body of work – as well as enduring screen radiance. Julie Christie has both, and her performance in "Away From Her" was indelible.
Best Supporting Actress – Hmmmm. I like Cate Blanchett here, though it might be tough for her to compete with sentimental favorite Ruby Dee, for her career as well as work in "American Gangster."
The Coen Brothers for Best Director. Always brilliant and surprising, the Coens surpassed even themselves with "No Country for Old Men" – the tight, taut, relentless ode to a world without redemption.
No Country for Old Men – Best Picture: What a terrible year to have made the seamless Michael Clayton – a year that had "Atonement" as the bodice-ripping fave; "No Country for Old Men" with its edgy genius; "There Will Be Blood," an almost-epic with a stupendous central performance; "Juno" a surprising and gritty comedy.
But the Academy might just reward team player and all-around charmer George Clooney by giving Best Motion Picture to "Michael Clayton." Nah – it will go to either the otherwise Oscar-less and highly deserving Juno, or to the evening's justifiable sweep flick, No Country for Old Men. I'll bet that Atonement takes home the Oscar for Art Direction, even though its high-fashion surface is appallingly obviously.