Abstractions – an ambitious and colorful exhibition of original artwork opens this Friday at a quartet of Santa Cruz County Banks throughout the county. Inspired by energy, emotion, and the environment, seven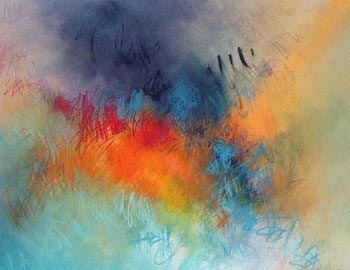 women artists explore the expressive qualities of line, shape, and form in these abstract explorations.
Artists Beth Shields, Barbara Johnson, Sara Friedlander, Wendy Barrett, Cheryl Doering, Barbara Kreitman, and Sarah Healey, are all showcased in an exhibit curated by Joan Blackmer.
Artists' Reception March 7, 2008, 6-8pm at Santa Cruz County Bank 325 Soquel Avenue, Santa Cruz. (above, Shields, Blue & Orange Mantra)
On view M-Th, 9am-5pm, Fri 9am – 6pm, the show continues through May 23rd 2008 – at Santa Cruz County Banks throughout the county.
Capitola- 819 Bay Avenue
Santa Cruz – 325 Soquel Avenue
Scotts Valley – 4604 Scotts Valley Drive
Watsonville – 595 Auto Center Drive