Along Park Street, the main – and only – drag in atmospheric (read: funky) Alameda, there are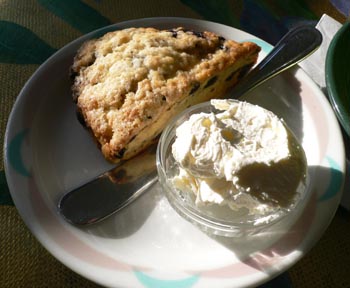 dozens of bars and an increasing number of coffee places. My favorite is Julie's – 1223 Park St., – where the house specialty is scones and home-made clotted cream, aka Devonshire cream.
I joined filmmaker Saul Landau there a few days ago and we sat in one of Julie's vintage nooks outfitted with velvety couches and over-stuffed chairs and swilled excellent espresso. The currant-laced scones are in a word, perfect. Tender, yet beautifully baked to just the point of brown crustiness, they are rich and delicate. The generous portion of cream that comes with the scone is the stuff of true oral fantasies. Almost obscenely rich, tart and creamy – this wonderful topping is what butter wants to be when it grows up. Naughty butter!