Two recent visits to Soif put me in direct contact with flavor dazzle, starting with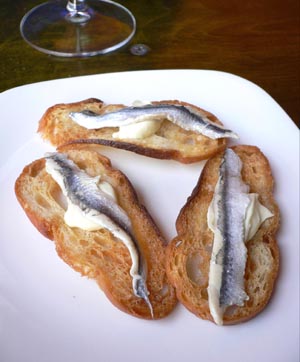 small plates of those addictive roasted Marcona almonds and crostini topped with tangy boquerones and aioli (shown left). An appetizer of fresh Dungeness crab salad joined by a mega-side portion of watercress added more Meyer lemon top notes. On another visit I shared a voluptuous side dish of Brussels sprouts (probably the first time "voluptuous" and "Brussels sprouts" have been used together in a sentence) with bacon. All wonderful. But best was the duck entree centerpiece of each of my two meals.
Duck is one of my passions and this particular version is everything you want a duck dish to be. Slices of rare, lean roast duck breast join succulent baby bok choy and plump whole shiitake mushrooms, all married by a velvety sauce of lemongrass and ginger. This is all magic, but even more so accompanied by an elegant 2005 Dufouleur Nuits-St.-Georges 1er Cru Pinot Noir from Burgundy ($6.75/taste). Sure the duck would also have been memorable partnered by a glass of the remarkable 2005 Leitz Riesling Spatlese, as suggested by le maison Soif honchos. But I'm pretty firmly committed to red wine with duck. Heaven.
Soif Wine Bar & Restaurant holds forth at 105 Walnut Avenue in downtown Santa Cruz – 831/423-2020.