My on-going grazing tour of La Jolla continued last week with lunch at the very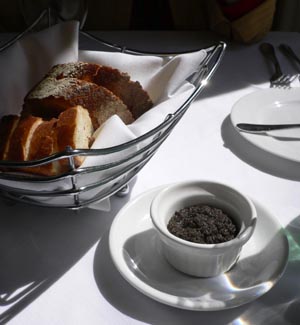 smartly decorated Tapenade, a few blocks off the seaside village main drag of Prospect Street. Pale yellow walls, handsome floral design and attractive waiters all set a positive tone to the meal my mother, Marie, and I enjoyed. From the house signature tapenade, served with two breads (l.), to a spectacular dessert of warm chocolate "fondant", we enjoyed the slight French inflection to this popular dining menu.
My mom's risotto was laced with fresh English peas, prawns and ahi tuna — all delicious — but the most remarkable thing about this dish was the complete creaminess of the Arborio rice. As if just made at someone's home, this was a few miles beyond restaurant risotto.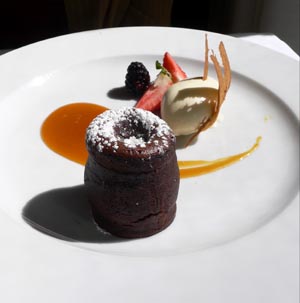 But dessert was the apex of lunch at Tapenade. Gorgeously presented, the tiny chocolate fondant was indeed molten to the core, and served with a thick sauce of passionfruit caramel and a satiny ginger sorbet. Absolutely wonderful. With a slightly updated menu, Tapenade could join the ranks of destination, south-of-Carmel eateries.