That's French for schoolhouse forty-one, and it probably refers to some esoteric bit of vineyard architecture somewhere up in Washington. But all you need to remember is the name.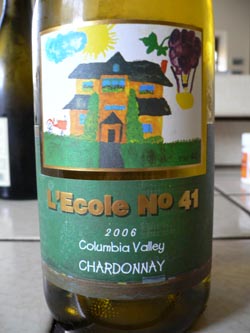 This winery – L'Ecole No. 41 – makes killer faux Bordeaux – especially something called Perigée that will refine your view of what the cool northwest can produce. But it also makes a truly Burgundian chardonnay, as I found out with this 2006 vintage. A terrific balance of acid, minerals and stone fruit – with just a whisper of oak – this is a chardonnay that even sauvignon blanc drinkers like moi can really relate to.
Here's the big fat caveat. Take a look at this colossal labelling blunder. An elegant wine – priced at a not exactly rock bottom $23 – with a child's drawing, however darling, as the label.
No offense to the winemakers – whose child or grandchild probably made the original artwork – but you've created a wine with true gravitas and then trivialized it with a frankly corny (and not even beautifully so, if I may be blunt) label.
I bought this wine only because of its sister red wine, the amazing Perigée. And so I had confidence that the Chardonnay might also be good – despite the ghastly label. Most people probably wouldn't take this wine seriously. They should, but the label really fights against paying $23 just to find out. It's at Shoppers – you can't miss the label.