The view from the front door of Riva Fish House is enough to induce instant serenity. The big-shouldered seafood menu at Riva is always a reason to drive out onto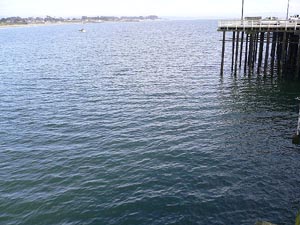 the water and enjoy all those huge, oceanic views. The gelato selection alone is legendary. But now there's another reason to drift on down to the Wharf — a handsome show of hand-printed black and white photographs by Katy Cater, lining the walls of Riva with soothing images of interior landscapes and sculptural botanicals — as if Cater were the love child of Brassai and Imogen Cunningham.
For the life of me I couldn't produce a decent snapshot of one of Cater's haunting photographs – I especially love the one looking across the rumpled bed, through the open window, looking at the windows of an apartment across the way. So you'll need to get down to Riva all by yourself – the show's up through May.
And speaking of Riva, it's all true — says restaurant czarina Germaine (Red, 515) Akin. Attorney Martin Drobac —one of the original Riva partners —is now the sole owner. The place always feels welcoming — especially on a grey spring afternoon when the view of the water over a mojito looks especially serene.
You know where the Wharf is, don't you? Riva Fish House – 500 Santa Cruz Municipal Wharf. Call 831.429-1223 and ask about the catch of the day.