Bonny Doon Vineyard has no peer when it comes to self-reinvention. The oenological shape-shifting continues with this week's preview of the first all-biodynamically produced, Demeter-certified bottlings from BDV's Ca'del Solo Vineyard in Monterey County. And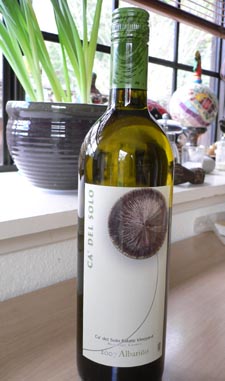 there is much to like.
The immediate eye appeal, for one thing (see image). Note the fresh green graphic design on the Stelvin screw cap, quoting the crystallization image which now adorns all estate vintage labels. The 2007 Albariño visually proclaims its heightened sensitivity, an opening salvo of the new, improved, downscaled Empire of Doon. But that's not all.
From the branding genius of founder Randall Grahm – a man who continues to set the pace when it comes to value-added consciousness – comes new labelling transparency. Not only are the grapes grown according to the terroir-nurturing practices of biodynamic farming, but the labels now list every last blessed ingredient (all of them benign, naturellement) involved in the making of these wines. To whit: "Indigenous yeast, organic yeast hulls, bentonite, tartaric acid." How evolved of our local heroes! It would seem that no other winery is offering to let it all hang out, contents-wise. And this, once again, separates Grahm's crew from the rest of the pack.
Marketing, schmarketing — how does it taste? Glad you asked. At 12.5% alcohol, this is a delicate tryst of vibrant minerality and enviable persistence. Low alcohol and high acidity mark this ultra-crisp white wine whose grape varietals (albariño, loureiro, and treixadura) originally hail from the northwest corner of Spain.
A Tesla coil. That's what comes to mind, only this one uncoils rather quickly, becoming a force-field of phosphorescent citrus on day two. Noting the lemon zest topnotes and flinty mid-section, one fantasizes about barbequed chicken or Szechuan accompaniments. BDV Albariño wants to play up against fat and protein — grilled duck perhaps, flash-fried scallops, you get my drift. And for roughly $20 this one could become the house cocktail wine of summer. Go get yours.