It was a moment of matchless synchronicity. I met my great and good friend Rita Bottoms, former empress of UCSC Special Collections, for lunch at Au Midi in Aptos. There we were, surrounded by colorful impressions of Parisian cafe life, thanks to a display of oil paintings by Rita's husband, Tom Bottoms — when our host Michel Loubiere brought a few bottles of wine to our table.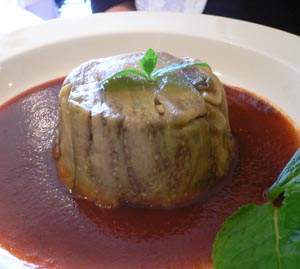 "You have an admirer," he revealed. And we looked over at a happy foursome – one of whom was winemaker Ryan Beauregard, a savvy young talent who knows an opportunity when he sees one. So we sampled some brand-new releases from Beauregard Winery, including a notable Sauvignon Blanc 2006, loaded with crisp structure and a long, solid middle – made from grapes harvested in Lake County. Our lunch began with tableside greetings from chef Muriel Loubiere, some fragrant francese and a velvety soup of sunchokes.
My Daube provencale entrée of Kobé beef, carrots and polenta showed off the chef's miraculous reduction sauce of wine, herbs and a topnote of orange. Rita's "papeton" pesto linguine with eggplant in a tomato and bell pepper sauce – incroyable.
Here you see the "before" and "after" pictures. Served in a molded turban (above), completely encased in soft, succulent eggplant, the linguine only emerged when liberated by Rita's fork. See the second image for that bit. I just managed to get a shot before Rita's fork took over.
Muriel Loubiere has to be the sauce maestra of the Central Coast. Both the deep wine-intensive reduction which bathed the daube, and the tangy tomato and pepper reduction with the linguine, were amazing.
We finished with a frozen, lighter-than-air frozen nougat of chocolate, surrounded with a delicate creme Anglaise. Rita adores this very grown-up, not-too-sweet dessert and it was easy to see why.
Au Midi offers a very saucy lunch list – including an authentic version of Croque Monsieur – and even serves lunch on Saturday. This is good news.
Au Midi Restaurant & Bistrot – 7960 Soquel Drive, Aptos – 831.685.2600