If Sean Baker gets any better at what he does, Gabriella could wind up with a Michelin star one of these days.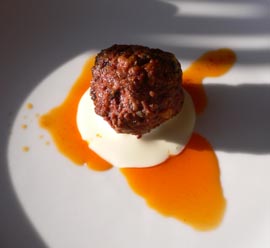 We were blown away on the first evening of Spring by a few choice appetizers from what is becoming the top kitchen in the area. Certainly for sheer creativity, sex appeal and culinary chance-taking — it sets the pace.
From an amuse of pastured lamb on aioli and heirloom tomato glaze, to the long fingers of grilled bread topped with green garlic — okay, the Grüner Veltliner and Morgan Pinot Noir certainly didn't hurt — it was one of those matchless hours in a lovely dining room.
Surrounded by the new show of oil paintings by Tom Maderos, Katya and I split two appetizers that show chef Baker's continued exploration of the fresh,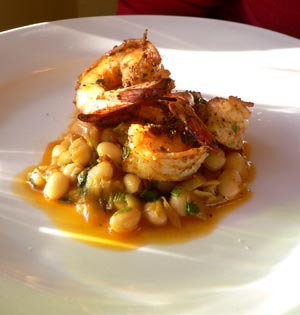 the wild and the organically-grown.
A dish of grilled wild shrimp arrived on a bed of warm marrow beans that had been tossed in something spicey with flashes of sweetness. Crimson nuggets of pomegranate seeds joined the sensuous beans, and a marmellata of spring onions and garlics added depth. As conceptually smart as this dish is, it was effortless to enjoy. The flavors soared.
The special appetizer of the evening proved another huge hit. Again the flavors were so engaging that it took a minute to realize how smart the entire creation really was. A plump square of barramundi – an Australian reef fish that rivals sea bass – had been poached and then placed atop two large leaves. On top of that was a tangle of baby
fennel from Lindencroft Farm, and toasted pine nuts strewn over everything. A vinaigrette of Prosecco and blood orange heightened it all. Each forkful offered the silky seafood tasted through a lens of spring fennel and the earth and salt of the pine nuts.
I have to say that food like this sweetens the whole idea of being alive.