At a table set for two dozen people, the pinot noir flowed freely. Well of course it did – after all every other person at the table was a winemaker specializing in Santa Cruz Mountains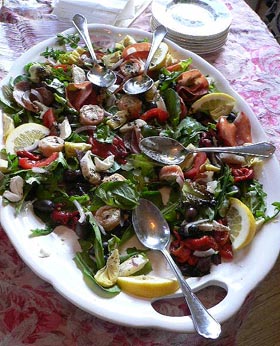 Pinot Noirs.
Jeff and Andrea Emery (SCMtn Vineyard), Nick Guerrero (Vine Hill), Jim and Judy Schultze (Windy Oaks), Jerold O'Brien (Silver Mountain), Ryan Beauregard (Beauregard) David and Anne Moulton (Burrell School), and a few other leading names in local wine had gathered for dinner at the Hallcrest estate of John and Lorraine Schumacher – the night before the big Pinot Paradise weekend tasting event in Campbell.
In addition to meeting media and growers, I discovered a few special attractions among the many samples – predominantly vintage 2005 – being poured before dinner. I was already converted to the wines of Windy Oaks, and of course the wide range of varietals made by Schumacher in his historic cellar. So I helped myself to a few lesser-knowns. Burrell School, for example. And the new Cumbre label from Wines of Vine Hill, which also makes the Gatos Locos label. The Cumbre, Raffaelli Vineyard,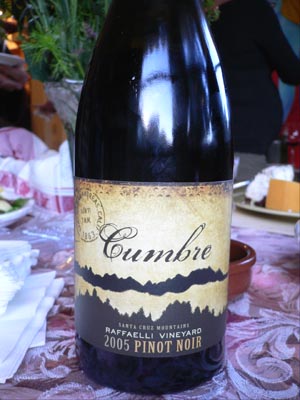 was just edgy and tannic enough to make it perfect for big foods, even at its tender age.
After grazing my way through a lovely smoked salmon, artichoke and tomato primavera salad appetizer, and some sliced pork loin with salsa, I fell hard for the stupendous Branciforte Creek estate Pinot Noir 2005 made by Emery at Santa Cruz Mountain Vineyard. The sleek new label replaces the one made famous by founding winemaker Ken Burnap – the one with the bobcat. Emery's latest is a masterpiece – everything you want in a pinot noir. Deep fruit and a persistent center, flourishes of raspberry and plum, earth and spice, and enough structure to last for years. The acidity controls softness and delivers an elegant finish.
This robust wine made an interesting contrast to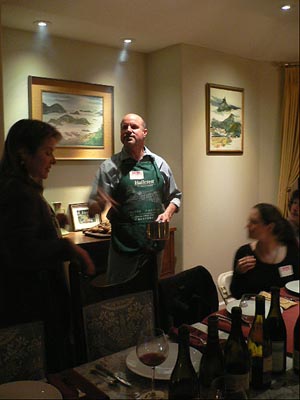 Schultze's rounder, mellower Windy Oaks Estate Cuvee, from his Corralitos vineyard. The Schultze Estate pinots are so completely balanced, fruit and tannins, structure and alcohol that they are impossible not to love. And yet they might have been made on another planet from the more forward and feisty pinots of Burrell School, Clos Tita or Cumbre. The range of styles and nuance in pinots produced in our appellation could keep wine lovers busy tasting for months. Years!
Schumacher loves to cook, and he knows his way around a grill. Fearless about whipping up a main course for two dozen finicky winemakers and critics, he produced a brace of expertly bbq'd chickens, marinated in something with cherry brandy, to go with a polenta mousse and sauteed mushrooms, and a small forest of fresh asparagus.
The excellent dinner cast a distinct afterglow, as you can see by this last shot.
The Hallcrest Estate overlooks Felton on one of the quintessential Santa Cruz Mountains slopes, surrounded by old vines, horse pastures and thick redwood forests. One of the sweetest places in the area, it should be your next picnic destination.