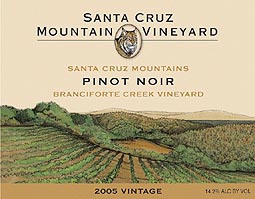 The pick of the week at Vinocruz just happens to be the mighty 2005 Santa Cruz Mountain Vineyards Pinot Noir, Branciforte Creek, which won Double Gold Medals in the recent San Francisco Chronicle Wine Competition. Kudos to winemaker Jeff Emery.
Come test drive this amazing wine – loaded with blackberries, earth and spice. Voluptuous yet buttressed with enough acid to take you all the way home.
The Branciforte Creek Vineyard, incidentally, occupies the original site of the first European vineyards in this area, planted by Henry Jarvis in 1863. 2005 was a mighty year for Pinot Noir, in the Santa Cruz Mountains as well as in Burgundy. Get some now before it disappears.
And by all means get on over to Vinocruz for those Saturday tastings – 3-5pm. The deck is now open! Vinocruz, 725 Front Street, just behind Abbott Square and next to the Octagon Lulu's. Open M-Th 11-7, Fri & Sat 11-8, Sun noon-6pm.