Somebody's gotta do it. My intensive, rugged – nay, grueling – taste testing of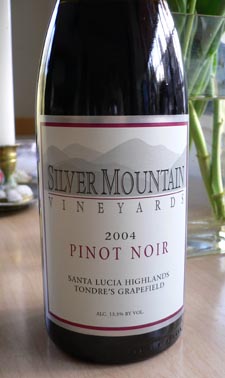 Silver Mountain Vineyards Pinot Noirs is nowhere near complete.
Next week I'll be providing in-depth notes, but meanwhile I am morally obligated to urge every single one of you to go out right now! and scour the countryside (or simply email the winery) and see if you can find any remaining bottles of this outstanding example of Central Coast terroir.
Silver Mountain Vineyards – 2004 Pinot Noir – Tondré's Grapefield, Santa Lucia Highlands.
Simply amazing.