Silver Mountain Vineyards – 2004, Tondré's Grapefield, Santa Lucia Highlands.
I'm convinced that something close to sorcery must occur in the Tondré Grapefield.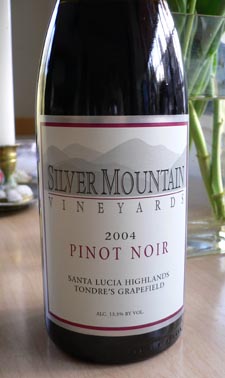 Because Tony Craig – formerly of David Bruce, who's now joined founding winemaker Jerold O'Brien at Silver Mountain – is making all the Silver Mountain wines I've been tasting. But these Tondré grapes just seem to power the vintage into another plane of flavor duration. Sassafras, plum, rhubarb and licorice and a finish that lasts over a minute. This is a pinot noir that requires absolutely nothing more than a glass! And it gets better the second day, when more earth and mushroom tones appear at the top and the bottom. Roses perfume the very summit of the finish. Incredible stuff.
2004 Miller Hill Vineyard. At 13.5% alcohol, this wine has real finesse and cries out to be joined by chicken, fish or perhaps a lightly-seasoned duck dish. We tasted an initial round of ash and tobacco, something rich, meaty and spicy in the middle – Bolognese? blood? – and a finish of pomegranate, licorice and wood putty.
As the wine opened it settled into both rounder and deeper territory, and added a layer of metal (zinc? steel?) cherry and orange. It partnered beautifully with roast turkey and a Basque sheep cheese for dessert.
2005 Muns Vineyard. Lovely garnet color, classic licorice front and strawberry/plum back. After half an hour, a distinct bouquet of tangelo appeared, haunting each sip. Very nice, especially with food.
So far the Tondré still rules. One oenophile who ran out for a bottle based upon my posting last week, emailed me with her response: "W.O.W. – wow!" But I've got a few more vintages to try. Stay tuned!