What a delightful creation, this vivacious 2007 Muscat from Bonny Doon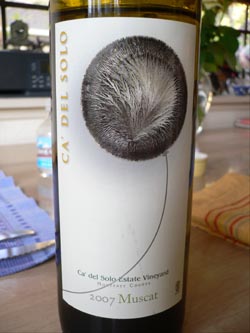 Vineyard's Ca'del Solo estate. Cultivated according to the exacting standards of biodynamic agriculture since 2004, this spare, rugged vineyard has produced a luscious new wine that is full of surprising characteristics.
Whatever one's attitude toward the esoteric agricultural teachings of Rudolph Steiner's biodynamic philosophy, several things are obvious. 1) Grapes grown according to these hyper-organic standards, in which the soil is nurtured to maximum health, prosper through meticulous husbandry. And 2) the proof of whether biodynamic techniques are worth their calendula and nettles, is in the drinking. And that's where this very young, 12.5% alc. wine excels.
Within minutes of twisting off the yellow screw-top, this wine was practically bouncing into the glass. A shimmering hint of effervescence was followed by a band of salinity, honey and then a center of lead crystal began to open. The finish – at first – was perfumed with wild gardenia. After a half hour, a top-note of lime entered this very pretty, crisp white wine. In other words, this wine offers a fabulous mystery tour for the palate, balancing neatly between mineral and floral.
Lively and complex, this intricate wine bodes well and beautifully for the Demeter-certified, biodynamically-farmed grapes of Ca' del Solo vineyard down in Monterey County. Such a wine would be perfect with curries or jambalaya. Ready to drink now! $14.99. – Bonny Doon Vineyard.