Comparison shopping can be sweet. In order to better understand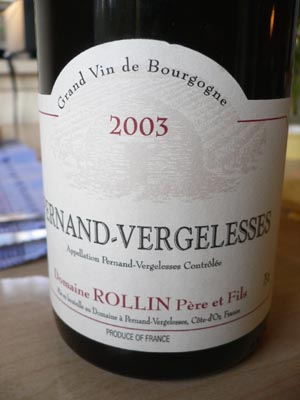 California pinot noirs – and specifically those made in the Santa Cruz Mountains appellation – it is sometimes necessary to cave in and purchase, taste and sigh over a pinot noir made in France.
Here's one that rewards the splurge — and soars to great heights paired with aged sheep cheese.
The lovely Pernand-Vergelesses 2003 from Domaine Rollin Pere et Fils, is a subtle powerhouse of a Burgundy grand vin, fully equipped with notes of tobacco, leather and a heart of ripe plums. Yet at 13% alcohol and intricate acidity, it never tires the palate. Not one bit. Poetry down to the last sip, it opens and just gets better by the hour. The next day (should you be able to restrain yourself and save some) it is yet another ravishing creature, with a rounder tone and yet sturdy enough for some choice bit of oil-rich seafood or a roast pork loin.
Grab $30 — remember, you're celebrating one more year of getting your taxes done on time — and head for Soif. There might just be a bottle left.