The visually delightful, all-organic catering group founded by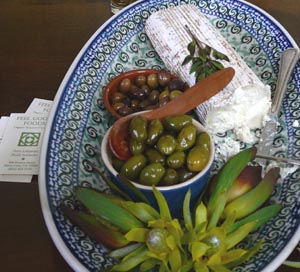 Heidi Schlecht and Amy Linstrom (who also operate the inviting River Cafe) continues to fuel some of our best parties.
Platters lavish with edible flowers, opulent proteas, and other eye-candy adorned the tables and decks up at the Vine Hill winery release party last weekend. Endive leaves were stuffed with roasted salmon, dill, and lemon zest aioli. Buffalo mozzarella and sage were wrapped in prosciutto and then grilled – that's the sort of one step further thinking that characterizes Feel Good Foods' catering style. Yet completely fresh and clear, nothing tricky or mysterious. The ripe cheeses and myriad olives shared plates with toasted almonds, spreads, dips, relishes and crusty breads. Guests simply added a glass of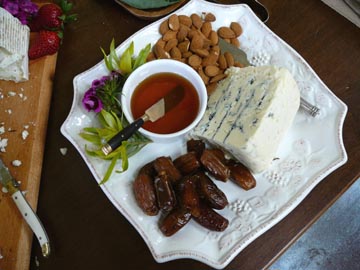 Cumbre or Gatos Locos wines, and enjoyed the live music out on the deck.
Speaking of wine – yes, it's true. River Cafe now offers wines by the glass to go with its earthy, artisanal menu. Silver Mountain pinot noir, Alfaro rosé and Chance Creek chardonnay. Drink local!