Here's a red wine discovery you'll enjoy. I first encountered Martella Syrah Hammer Vineyard 2005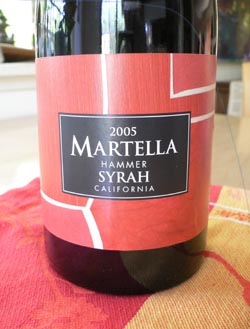 on the Gabriella Cafe menu, and it was love at first sip. I found a bottle of this appealing wine at New Leaf Market.
Martella is Michael Martella, longtime winemaker at Thomas Fogarty who bottles some choice varietals under his own name. This is one of them and it belongs on your dining table.
Syrah loves lamb, duck, olives, almost any cheese – and goes nicely with a long sunset. In the Martella Syrah found meaty, smoky tones initially, with plenty of grip and a band of brambles sitting firmly in the center – brambles that expanded horizontally, on and on into a leisurely finish. Around $20 and worth its weight in American oak.