We weren't the only ones soaking up the pastoral beauty of the Corralitos countryside last Saturday.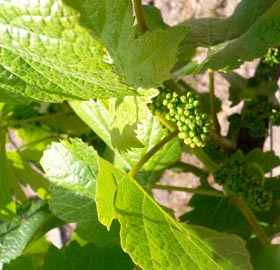 We had plenty of fellow wine-seekers for company as we toured a few of the small artisenal wineries on rare view during this twice yearly open house.
First Alfaro Family Vineyards, where the gorgeous new tasting room, with marble counters and exposed beams, greeted us. The tasting room will be open on Saturdays, by appointment, starting the first week in June, so download a map and get ready to sample some of the many varietals and vintages. (The $10 tasting fee, Richard tells me, will purchase a commemorative glass and a flight of at least five Estate wines.)
This winery has several defining features. One is the irrepressible Richard Alfaro (below, in his official wine tasting shirt), who transformed himself from successful baker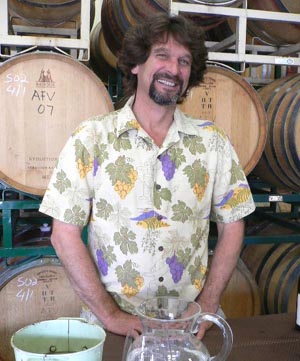 to passionate winegrower with a first crush five years ago. Of his 75 acres, a full 25 are dedicated to vineyards – Syrah, Pinot Noir and Chardonnay. This has to be — correct me if I'm wrong — the largest continguous acreage devoted to wine grapes in the entire appellation. And it's gorgeous!
I met Alfaro's winemaking partner, UC Davis-trained Joe Martin (hence, the Martin Alfaro label), swilled myriad house pinot noirs – including the exceptional 2006 from Santa Lucia Gary's Vineyard, and the estate-bottled Lindsay Paige Pinot Noir. We listened to the singing attorney, Joe Haselton, sampled cheeeses and hot Corralitos sausage, and strolled the vineyards, which are the other defining feature of the Alfaro estate.
Then we headed around the ridge over to Windy Oaks Estate, where Judy and Jim Schultze — fresh from a visit to their coopers in France —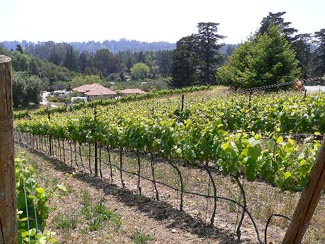 were pouring some of the best pinots in the region. The infant pinot noir clusters basked in the sun and with the exception of the Schultze's magnificent stands of redwoods, it might have been the Languedoc. If you missed this installment of the Corralitos Wine Trail, be sure to check for the next open house — the wines are intriguing, the winemakers are ready to ramble on about their wines and how the grapes are doing – and the countryside is idyllic.
Hits of the Trail: The "hits all the right spots" Alfaro "A" Estate Pinot Noir 2006 (results to date of Richard's quest for a "really good $25 pinot noir"), the Windy Oaks Diane's Block Pinot Noir 2006, and the luscious Martin Alfaro Schultze's Vineyard 2006 Pinot Noir made by Joe Martin from Jim Schultze's grapes. Terroir on wheels.