Ham & eggs & a little light bubbly – sounds like breakfast doesn't it? But it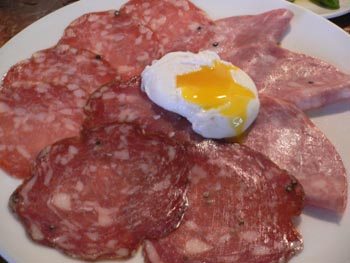 was bistro appetizers at Soif last week. Let me explain.
A "small plate" order of salumi caught our eye – but so did the evening special of a poached egg over shiitake mushrooms. When John Locke poured me a taste of a splendid, very light alcohol Lombardy red wine with the tiniest little "vivace" effervescence, I joked that it was light enough to be a "breakfast wine." Then the lightbulb went on.
The kitchen obliged and what we got was this gorgeous platter of toscano, soppressata and salame rosa ($12) topped with a poached egg! Ask and ye shall receive. Peasant decadence, paired with the refreshing Francesco Montagna Oltrepo Pavese "Vivace" Bonarda 2006 ($3.25/taste). Something a little different — and completely memorable. My idea of budget gourmet.