Cooking adventuress Diana Kennedy will spend three days in the Santa Cruz area – on a lengthy West Coast junket celebrating the long-awaited re-issue of her definitive, and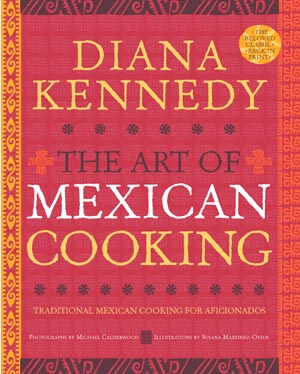 much-loved The Art of Mexican Cooking. It's all here – myriad authentic Oaxacan molés, chile lore and preparation notes, plus extensive recipes Kennedy gleaned in her tireless culinary anthropology combing the Mexican countryside for the past 40+ years.
Don't miss these opportunities to talk with Kennedy — she's opinionated and delightful — purchase her cookbooks and have her sign them.
– Friday, May 30, 6-8pm Alma Gifts & Culture will host a book signing and reception with Ms. Kennedy, at 1705 Mission St. Santa Cruz. Call 831-425-2562 for more information.
– Saturday, May 31, 9am at the Aptos Farmers Market, Ms. Kennedy will give a talk and Q&A session after which market-goers can meet the author, purchase books, and have their books signed. Cabrillo College, 6500 Soquel Drive, Aptos
РSunday, June 1, 5:30pm, Ms. Kennedy will speak at the Capitola Book Caf̩. After her talk and questions from the audience, refreshments created from recipes in The Art of Mexican Cooking will be served. Copies of all DK titles will be available for sale. 1475 41st Ave., Capitola. Contact Janet for information at 831-462-4415 or visit Capitola Book Caf̩ online. at www.capitolabookcafe.com