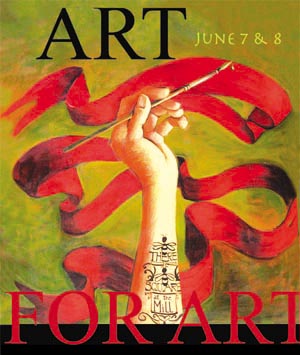 A roster of heavyweight — or at least wildly colorful and prolific — local artists will gather for your edification on the weekend of June 7-8, 11am-6pm at The Mill Gallery, 131 Front St., in Santa Cruz. It's called Art for Art, and it benefits the Tannery Arts Center.
Art-lovers can check out bold contemporary artwork in a wide range of media from more than two dozen top practitioners. Choice appetizers and music will also accompany the visual feast, and artists will be donating 20% of all sales to the Tannery Arts Center. Art for Art group exhibition will be on view during June 6th "First Friday" art grazing tour – 5:30-9pm.
If you need more info contact the Art for Art website. See you there!