On the way to the Mojave — a stunningly beautiful and difficult expanse of geological wildness — we always stop for the night in Paso Robles. Once simply a cow town next to a mission, now a cow town with wraparound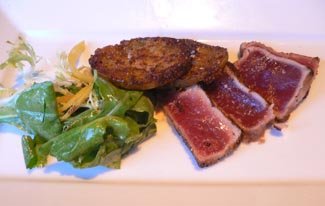 vineyards, fine restaurants and a charming grid of 19th century Western architecture, Paso Robles is worth a look.
Artisan and Bistro Laurent are our favorite dining spots. Always top quality, with excellent listings of local wines. At Bistro Laurent we sampled an updated French classic of stewed rabbit with mashed potato cake, and another entree of seared scallops topped with a crispy risotto frittata. Both exceptional, as were the Liberty School Cab and the Eberle Syrah that accompanied.
On the way back from the desert, we dined at Artisan — louder than professional basketball, but excellent. I always order the appetizer of seared ahi, with crisp green tomato fritters. An entree of wild boar with oricchiette and English peas was amazing.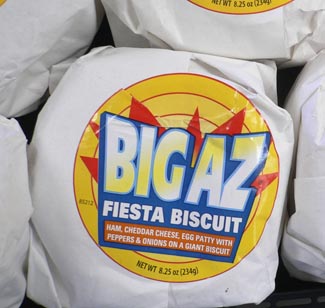 Moving on the next morning, we took a break (along with everyone on the way to LA) at the Hwy 46 exit just before the massive I-5. Here at the friendly, over-the-top candy, gasoline & pee stop that is Pilot, we found something so horrifyingly silly that we were stopped in our tracks. So THIS is how America gets so fat, we thought, as we considered a display of "BigAz" Fiesta Biscuits the size of a BarcaLounger.
I truly regret not turning over this two-fisted monument to sugar, fat and carbs to read the calorie and sodium count. But let's just say that this baby obviously lives up to its name, and will indeed enlarge your butt with its mega-portion of ham, cheese, egg patty (doesn't that sound like something out of a 50s sci-fi classic?), peppers and onions, "on a giant biscuit." Mother of God.