If there's a legal thrill that comes close to great, live opera – I haven't found it yet. And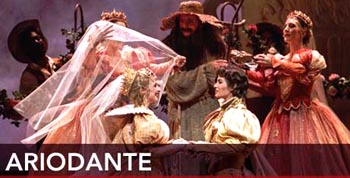 last Sunday's opening matinee performance of Ariodante just proved it all over again.
Written seemingly to twist Baroque-era vocal chords into rococo pretzels, Handel's 275-year-old masterpiece is your basic love, betrayal, revenge, death and happy ending opera seria, loaded with soprano parts written for men and sung by women in 18th century drag. Got that? Think of it this way: Handel was the toast of Europe when Ariodante debuted in 1735. It was created for the male (castrato) soprano superstar Giovanni Carestini — written by a German (Handel) living in London, set in Scotland and sung in Italian. Ben Franklin very likely saw this opera. Twice.
Sunday's performance was by every benchmark a knock-out, bringing the San Francisco Opera House audience to its feet at least three times during the 3 hours of killer vocal pyrotechnics — imagine all those serious, white-haired opera buffs screaming, cheering and stomping their approval. Delicious.
What they were most wild about, was the central tour de force, sung and acted by Susan Graham (in the title role). Agonized by the apparent betrayal of her beloved Ginevra (Ruth Ann Swenson), Graham/Ariodante launches into a slow, shimmer of coloratura work – "Dopo notte" – that ends in a passionate swoon. Dig this. Graham miraculously sang the final fifteen minutes of this arduous display of bel canto lying flat on her back on the floor of the stage.
Every bell-toned note was audible and when Swenson landed on a crystalline high A our collective knees turned to jelly. Anyone who has done a lick of theater work knows that it's hell trying to gather enough breath to project your voice when you're sitting down. But imagine filling an opera hall with exquisite glissandos and torrents of trills, all while kneeling, falling, rolling and finally lying — utterly prone. Am I going on and on? You bet I am.
The production was so beautiful it hurts to remember. Like a moving tableau of Dresden porcelain, the gowns, the lightwork, the smart direction — everything conspired to make you forget that this was an exercise in Baroque opera, i.e. where there are "spoken" recitatives, followed by long, stupendously difficult arias, and almost no action or plot development.
Three centuries disappeared before our eyes and it was as if we looked back in time to see the origins of modern opera – sung by a brilliant cast of performers.
I'm exhausted. Just remember that watching a moment of performance genius, live, happening right now in front of you, trumps any electronic simulation you can name. Period.
So think about it. An hour and a half up the road there's a world-renowned opera house. You can be in that audience. It's worth the time, the money and the attention.