Avanti that is. A few very hot nights ago we gave up on the whole idea of cooking and headed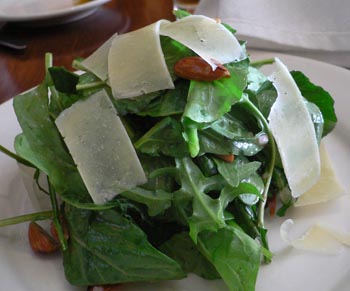 over to Ristorante Avanti where the evening specials dazzled.
Under the expertise of lead sauté cook Roberto Serna, two entrees and one shared salad said everything about the season, the imagination of executive chef Ben Sims, and the ability of a known quantity to surprise us all over again.
The meal began with a salad of adolescent arugula, bathed in a sherry vinaigrette that allowed the fruity olive oil to take the major role. Shaved parmesan – not tons of it, just enough to add some salty sparkle – joined toasted almonds and thin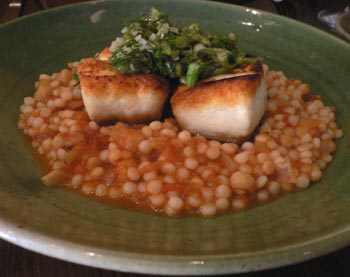 sliced zucchini (like transparent coins) as accents.
Our second course — enjoyed with a lovely Tempranillo — included two plump squares of expertly grilled halibut. The moist fish topped a delicious field of Israeli cous cous laced with micro-diced yellow zucchini, organic Calabria peppers and a few garbanzos. A top-knot of sauteed fennel added more flavor depth to this ingenious dish.
Another entree of slow-cooked lamb shoulder, the falling apart tender kind of flavorful meat, was accented by romano beans and bitter greens — the sharp vegetable flavors cutting across the plush, rich meat.
Both dishes were frankly brilliant, with enough to take home for a lavish lunch the next day.