Smart plates in a sleek, sophisticated setting. (Nothing beats alliteration – nothing.) Anya and I checked out the brand-new lunch menu at Soif last Friday and were treated to some lovely stuff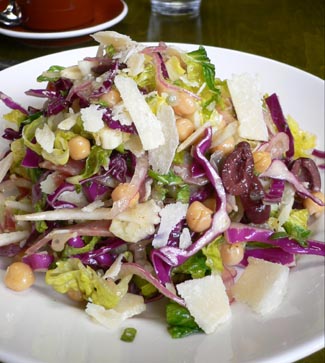 in the way of a chopped salad of romaine entangled with crisp red cabbage, zest of salami and parmigiano, flecks of Kalamata olives, a few chick peas (okay, more than a few) and even goat cheese as well.
This massive portion — easily enough for three women or two surfers, or Kobe Bryant — ran $9. We also shared a sensuous panino of jamon serrano and fresh figs, all gooey and decadent thanks to melted mozzarella, for $12. This baby was one of those monuments to Italian sandwich genius – high fashion on a plate, yet a little impractical in the actual eating. One bite and the opulent contents began to ooze out both sides. So we adjusted the interior as we ate. With the sandwich, I ordered a cup of the day's soup,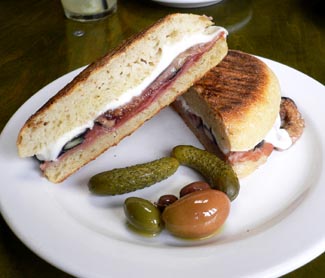 a pale yellow fresh corn puree — sweet and creamy — laced with slices of yellow and red cherry tomatoes.
And to drink, I had a hefty glass of freshly-squeezed lemonade, full of fiber and rustic, tangy lemon flavor. Anya had an espresso.
Soif's lunch menu is simple and direct. Three salads, three panini, a soup du jour and a daily quiche.
Cool beverages, coffees and eight wines by the glass. Soif has done all of the thinking for you — you need only show up.
Soif for lunch is a great downtown place to take your finicky out-of-town guests. On Walnut Avenue, next door to every woman's fashion pit-stop — Shandrydan.