Four years ago legendary wine pioneer Ken Burnap sold his Jarvis Road estate – site of the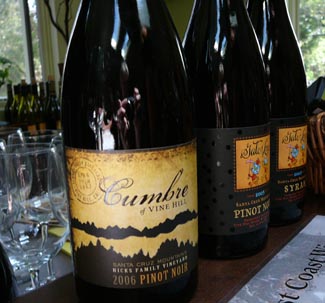 oldest wine grapes planted in the Santa Cruz Mountains – to a group of wine entrepreneurs led by Nick Guerrero. Under the Wines of Vine Hill mantle, Guerrero's group has been making increasingly interesting wines — so far using two labels — from a variety of California grapes. Winemaker Salvador Godinez, most recently from Saintsbury in St. Helena, is the man responsible for a distinctive 2005 Pinot Noir, from Corralitos' Raffaelli Vineyard. Under the Cumbre label, this hard-to-find gem makes me eager to see what will happen with Godinez harvests the Vine Hill estate pinot grapes – in two years time.
All of the ridge-top estate grapes from the late 60s (planted by Santa Cruz Mountains wine pioneer, David Bruce) were torn up and replanted with 6.5 acres of pinot noir, and 1 acre of Syrah, by vineyard manager Rachel Ormes, a UCSC Agroecology program graduate. The young vines will be ready for their first vintage in a few years, but meanwhile Godinez is working with pinot noir from Hicks Vineyard and Raffaelli.
Godinez is making exciting wines from these vineyards, opulent and loaded with licorice and plums.
Under the wine group's second label — Gatos Locos — Godinez is crafting lovely elixirs from fine grapes from around the appellation. Grab any one of them when you feel like pampering yourself.
You might want to look into join the Wines of Vine Hill club – these wines are terrific and getting better. Production is small, so the winery is the best place to look. Better yet, do as I did last Saturday, and drive up to this gorgeous property off Vine Hill Road. Unbelievable views in every direction. Bring a picnic and sample some of the current releases. (to be continued. . . )