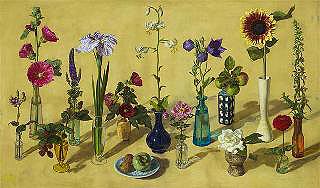 San Francisco's Hackett-Freedman Gallery always offers an eyeful of the best contemporary realism. Opening July 10 is a show of new paintings by Jeffrey Ripple, whose elegant still life studies are the equal to works by the 17th century Spanish masters.
The serene arrangements of flowers and fruit on orientalesque, flat-toned backgrounds show off Ripple's incredible mastery of realist technique, but they go further than that. The enigmatic studies suggest an ineffable lifeforce behind light, shadow, shape and form – in much that way that Vermeer's creamy light suggests an unseen, but always-present God.
If you're in the city, Hackett-Freedman is a sure bet for visual allure – and I'm also betting that Ripple's artwork will rearrange some of your rods and cones.
Hackett-Freedman Gallery – 250 Sutter St., San Francisco – 415/362-7152
Jeffrey Ripple show runs July 10 – August 30. Reception Thursday, July 10, 5:30 – 7:30pm.