Moss doesn't grow on Lou Caviglia, who lies awake at night dreaming up ever more tantalizing deals-of-the-century. My friend Susan adores the Martini Dinner specials at Clouds, and she showed me why last week when four of us lived large for very little $$$ at the downtown Santa Cruz watering hole.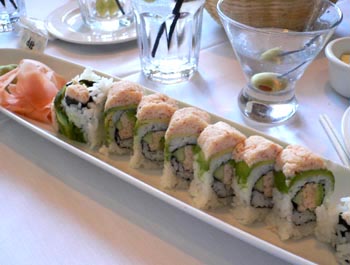 Here's the deal: Clouds offers a long list of specialty martinis, to which you add your choice of light dinner entree. The result? A stiff drink, a delicious dinner and a price tag you can live with. Here's an example. I don't like martinis adulterated with fruit, flavorings or sauces. I like mine straight up and pure, i.e. cold gin in a glass.
So I ordered a Tanqueray martini with a dinner order of California roll sushi (see above). The price? $10.95. That's what you might expect to pay for a martini alone. Are you liking this? I thought so. On the other end of the martini/dinner scale, Susan's latest boyfriend Rich ordered his drink with a New York steak. Pricetag? $18.95. That's for a drink and a steak. I don't know, it sells itself.
Anya had a nigiri sushi platter with her straight-up martini, and Susan had a sensational grilled salmon filet with her "Caramel Appletini" – a disgusting mixture of juices, vodka and a rim of gooey caramel. She loves it. To each her own. (Technically, a Caramel Apple martini contains: butterscotch schnapps, sour apple Pucker, and vodka.)
But the bottom line here is that every Sunday through Thursday, you can order a civilized cocktail and a very nice dinner for well under $20. That's at Clouds Downtown, 110 Church St., Santa Cruz – 831/429-2000.