At Hollins House. Last Monday. Monterey Bay Wine Company trade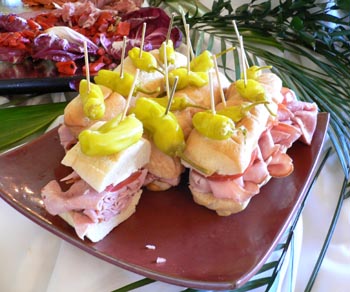 tasting. I expected a full dance card of amazing wines, but I wasn't fully prepared for the spectacular appetizer display thrown by the chefs of Hollins House — which has got to own the finest view of the Monterey Bay available.
Here's a sample — two-fisted, yet somehow petite, ham on francese creations with spicy pickled peppers on top. A wildly successful combination of very happy flavors.
Wines? Well, I'll be posting more later on this palate-pushing event, but let me just give you one word for now: Alfaro.