At this week's SCMWA professional wine judging, Lionel Le Morvan of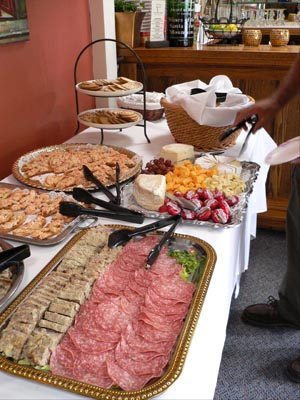 Ma Maison Restaurant laid out a spread that was truly choice. Giant shrimps from French New Caledonia, coucous with succulent chicken and fiery harissa, housemade lamb sausages (tdf!), gorgeous desserts including the house signature bread pudding and beautiful little custards with fresh strawberries Рand this was after crostini slathered (one of the appetizer tables is shown at right) with salmon and dill, plus enough of the house pat̩ to pave Provence itself.
But here's the best part, M. Le Movan confided to me that he would be repeating his cold weather triumph of last year — yes, cassoulet. It will make a guest appearance on the Ma Maison menu sometime in February 2009. We're talking authentic cassoulet, three days in the making, cutting no corners, making no concessions.
I will begin camping out in the parking lot of Ma Maison sometime near the end of January. Cassoulet made by a French chef is the stuff of dreams.