Wine lovers will hit the trail on Saturday, September 13, Noon-5pm, for the vineyard pub crawl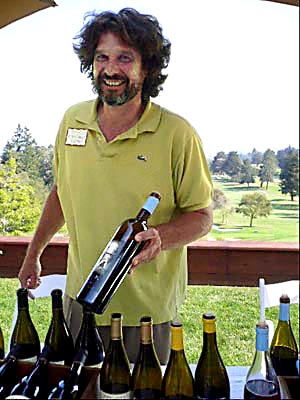 known as the Corralitos Wine Trail.
At this popular event, inquiring oenophiles can visit all four Corralitos award-winning wineries Alfaro Family Vineyards, Nicholson Vineyards, Pleasant Valley Vineyards and Windy Oaks Estate Winery , taste barrel samples, walk the vineyards, and talk to the winemakers. One ticket covers all tastings, food, and fun.Check the Wine Trail website for all details. (Wine Trail poster boy Richard Alfaro is shown pouring some of his luscious Alfaro Family Vineyards pinot noir at Hollins House last month.)
Also, now would be a good time to look for a bottle of Windy Oaks' 2006 Diane's Block pinor noir, which just took a Gold Medal in the prestigious BTI International Wine competition. Here are some juicy "Wine Geek Notes" on this outstanding wine, from winemaker Jim Schultze to keep you happy.
Harvest: October 24 and 27
Cold Soak: 6 days average
Fermentation time: 25 days average
pH: 3.65
Titratable acidity: 6.3 grams/liter
50% wild yeast
30% whole cluster