The infamous Le Cigare Volant, now in its 21st vintage, was the wine that launched Rhône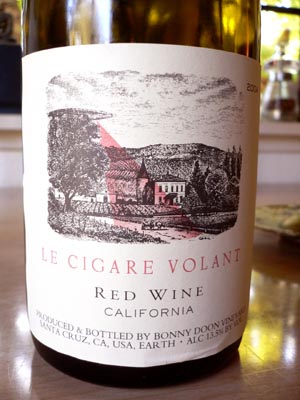 Ranger Randall Grahm into the oenological stratosphere. A brilliant riff upon the Châteauneuf-du-Pape blend of grenache, syrah, mourvedre and a few dabs of this and that, the Cigare has always proved reliable, classy, and in some years, great. 2004 — the year of the latest Flying Cigar release – might be one of the great ones. Weighing in at a highly drinkable 13.5% alcohol, this garnet red elixir is dense with roses and licorice, a hint of cassis, spice and a beefy center. Minerals haunt every sip of this blend of 50% grenache, 24% mourvedre, 22% syrah, and a bit of carignane and cinsault.
This cuvée's grapes hail from Gilroy and San Benito, as well as the mighty Bien Nacido vineyard down in Santa Maria. The Bonny Doon Vineyard flagship is a lovely creation, about as good as $30 gets and a sensational partner to that festive rack of lamb you've been planning. Best on Day Two, so open it now! Le Cigare Volant — life's too short not to indulge.